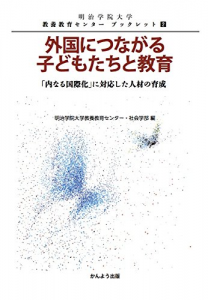 As a summary of the results of 'Internal Internationalization' Project in 2016, a new book "Children with foreign backgrounds and Education – Fostering of human resources responding to 'Internal Internationalization'" (Kanyo Publication, 2017, \1,080) has been published.
The book consisted of 3 sections. In the first section, there is a report on the past year's result of the project and introduction to the theme of this book. (Also there is a detailed report of the summer study-support school.) In the second section, it transcribed and re-created the talk session by Mr. David Yano which was held after the film screening of "HAFU" on October 24, 2016. And in the third section, there are three reports on the 2nd Symposium (October 22, 2016) which had hot discussions on the theme 'Education for children with foreign backgrounds.'
Please have a read through the past year's footsteps of the project that how they learned, considered and took actions toward the experiences and support of the children/youths growing up in the multicultural environment of Japanese society.
[The table of contents]
Preface (Shigehiro NAGANO)
1st Section: Project Report
Activity report 2016 (Tatsuto ASAKAWA)
Consider the relationship with 'the children with foreign backgrounds' (Mitsunori TAKAKUWA)
The Summer studying support school for refugees' children – Attempt to get college students involved in the support at the college campus (Shinji NOZAWA)
2nd Section: Report on the film screening and talk session
My thoughts on being between Japan and Ghana (David YANO)
3rd Section: Symposium reports
Empowerment of migrated children living in global society – NPO's activities in the United States- (Michiko TOKUNAGA)
The problem presented by 'take towel from girls after washing hands'(Takahito UEDA)
Support children with foreign backgrounds – Aiming for the future where diversity means affluence (Iki TANAKA)
Postface (Tatsuto ASAKAWA)
This is a sequel to a book "Another Globalization – Fostering of human resources responding to 'Internal Internationalization'" which was published last year. We would appreciate it if you could take a look at this book as well.
(Shinji NOZAWA / Professor in the Faculty of Sociology)