As it was held in summer 2016, 'Internal Internationalization' project conducted 'The Summer Study-support School for Children with foreign backgrounds (hosted by Support 21) was held at Shirokane Campus during this Spring vacation. During March 27th-31st and April 3rd-5th, about 20 elementary and junior high school students studied hard in the classroom at Shirokane campus. 6 Meiji Gakuin Volunteer students attended as a study support everyday and 32 students attended in total.
Their main activity was to stay close to the children and assist their study. It is not easy to provide indirect support, so the students were deeply engaged in their roles everyday. At the same time, it was impressive to see them enjoying the interaction with those children. Also it was surprising to see the children's remarkable growth from the last summer school.
During this 8-day study-support school, various programs other than study were planned. On the first day, the children were taken to a Shirokane campus tour. And on the last day, the children recited their essays, and there was a closing ceremony which everyone enjoyed talking and eating cakes given from the supporting foundation. On April 30th, there was an gathering which the students and alumni of Meiji Gakuin gave speeches about their experiences in the past. 4 students and alumni from faculty of sociology talked about how they spent their childhood, high school and college days, and what they are now aiming for. There were a lot of questions from the children and those students responded with enthusiasm. I hope these speeches gave the children some hints when they think about their future. To those who attended this event, thank you for your participation.
(Please click here to see the article on the last year's summer study-support school in the newspaper "The Catholic Weekly of Japan.")
(Shinji NOZAWA / Professor in the Faculty of Sociology)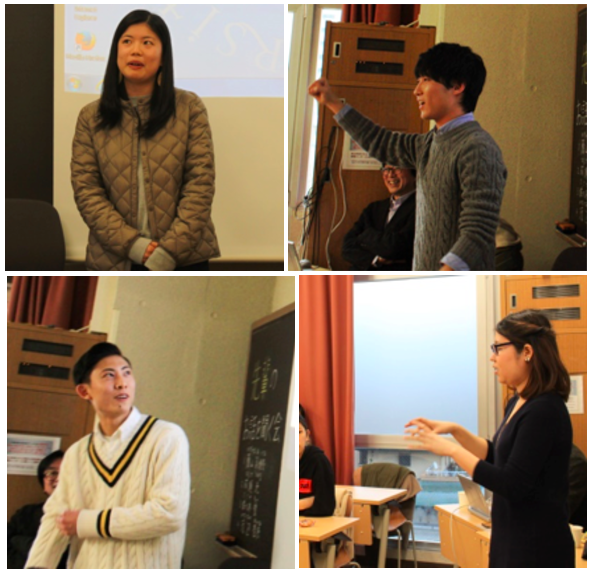 Students and alumni from the faculty of sociology who gave the speeches about their experiences at the gathering.